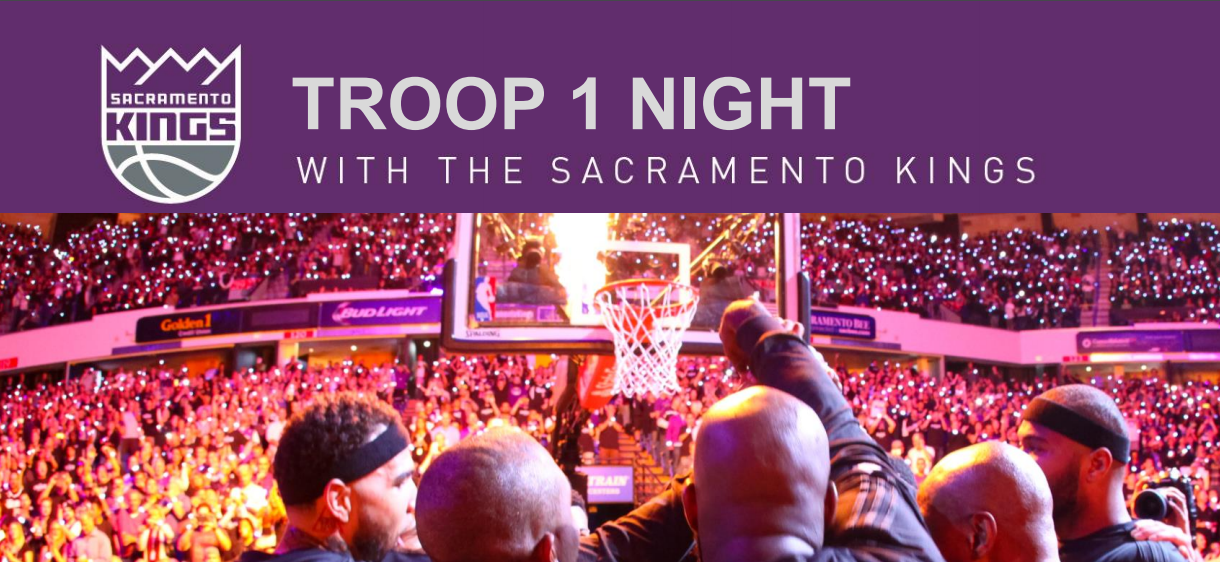 All Troop 1 Scouts, parents, family, and alumni — come celebrate Troop 1's 100th anniversary at the first-ever Kings game in the new Golden 1 Center!
The seats are located in Section 206, Rows N, M, P, Q, and R. Besides the game, your ticket price will also cover unique Kings Fan Experiences, including:
Emcee shout-out during halftime to honor Troop 1's 100th Anniversary
Pre-Game Warm-Up Watch: Head into the building early to watch the players warm up, and socialize with the group before the first ever game in the Golden 1 Center.
Post-Game Photo: Take a photo on the Golden 1 Center court with past and current members of Troop 1 in celebration of the troop's 100th Anniversary.
Parking is not included in this ticket cost — you must find transportation on your own. Lightrail runs near Golden 1 Center, two blocks away on K Street. More details on the parking will be released soon.
Please make checks payable to Troop One, print and fill out this form, and return both to Scoutmaster Tileston at any troop meeting. They can also be mailed to 6938 8th Ave, Rio Linda, CA 95673.
If you have any questions, please contact Mr. Tileston:
WHO:

All Troop 1 Scouts, parents, alumni, and friends!

WHAT:

Kings game group seats for Troop One's 100th anniversary

WHEN:

Monday, October 10th
7:30 PM

WHERE:

Golden 1 Center
547 L Street
Sacramento, CA 95814

COST:

$25 per ticket

(Parking not included in cost,
you must find your own transportation)

SEND CHECKS TO:

6938 8th Avenue
Rio Linda, CA 95673

Please make out checks to Troop One BSA,
and include this form with your check